If you compare your recent laptops to the ones you had five years ago, you will find a lot of differences in their hardware and software. For instance, Windows 8 or 7 are function slightly slower than Windows 10, while the latest macOS has various design features that make data management easier. Similarly, you can also see more space and rapid processors in the newer models of laptops and computers.
While sometimes you might be able to upgrade your old laptop, in most cases this can be quite a problem. You see, not all previous versions support new operating systems or allow access to different graphic cards or hard drives. If you find yourself in a situation where your old laptop cannot be upgraded, you might wonder what to do next.
Here are a few things that you can try.
Consider Selling the Old Laptop Online
There are a lot of options that you can check out to sell your used laptop online. Before you decide to follow up on this, examine your computer closely and look for its model and make. If you can find the manual, it is a good idea to read that as well. All of this will help you figure out the present condition of your laptop and assess whether it can be sold online easily.
Devices that are more than 5 to 7 years old may not be listed on some platforms. For instance, if you are planning to sell your used Lenovo laptop, some vendors might not deal in that brand. You may have to contact their customer support to get a quote for the device. Otherwise, you can simply enter the details such as brand, model or series, and time it has been in use, and get a quote immediately.
Once you have accepted the estimated offer, you can easily ship your laptop and get cash for it quickly, sometimes even within hours of shipping and assessment. After that, you could add more money to that amount and upgrade to a new laptop.
Run a BIOS Update Check
When it comes to upgrading older laptops, this is an important step that could help you update your operating system and connect with new hardware like drives or keyboards. If your device was released before Windows 10, you can run a check to see for a BIOS update. There were quite a few manufacturers that released these updates for their devices during 2016 and 2017.
You might not be aware of it, but there may be a chance to upgrade your old laptop. In order to see whether your laptop needs a BIOS update, you have to look for its current status. While there are quite a few ways to check that, the easiest one is through system details.
Just open Start and click on Run or press the Windows Key with R. Once the box opens up, type in 'msinfo32' in the given space. After you enter the command, you will see a System Information window appear on your screen. Select System Summary and check the date of the BIOS version as you can see below.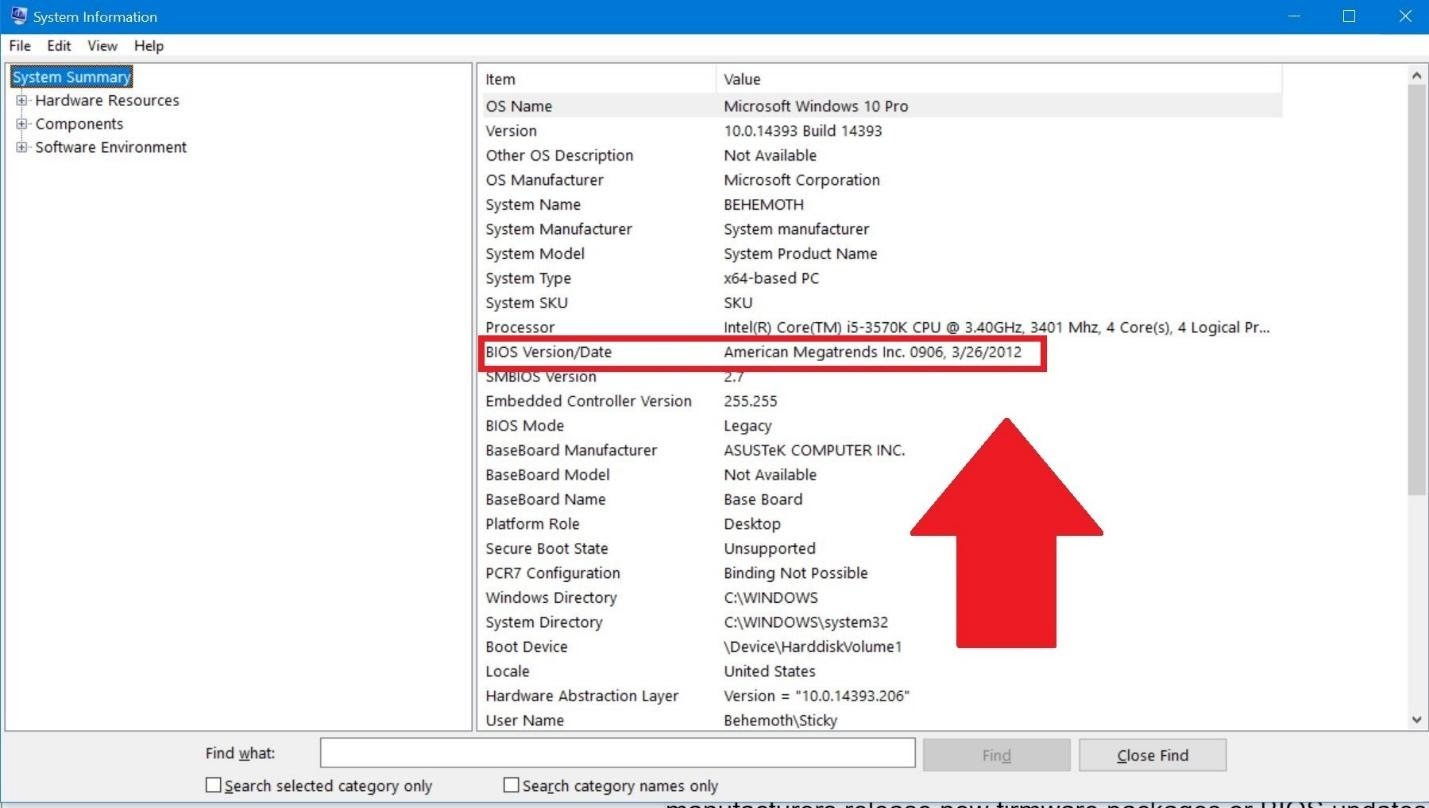 If the date goes back to 2015 or earlier, you can update the BIOS by looking for the latest version released by your laptop's manufacturer on its website. If it is a Lenovo, Acer or Dell laptop, you might be able to find the update on their web pages. For Macs, the firmware is updated with the software so you don't have to worry about the BIOS.
Install a New RAM and Hard Drive
One of the simplest things to do when your old laptop cannot be upgraded is to install a better RAM (random access memory) and replace the hard drive. You should opt for a RAM with more space such as 4GB or more as that will increase the speed of your computer and allow you to multi-task as well. This would allow you to launch various programs together and work on them.
Before you install a new RAM, you have to figure out which one is compatible with your computing system and motherboard. Once the right one is found, you can open the casing of your laptop and install the RAM chips in a short span of time.
Similarly, you can also try replacing the hard drive with one that has a higher storage and better function. If your laptop allows it, try to look for a solid state drive and add that to the computer as that could make the system last longer without problems.
Recycle the Device
Before you think about throwing away your used laptop or letting it go to waste, consider recycling it. If your laptop is in a fairly presentable condition, then you can search places that will recycle the device and prevent electronic waste. Sometimes, your manufacturer may have a recycling program as Apple, Lenovo, Dell and Acer do.
If your laptop is from any of those brands, you can contact their support to find out whether or not your old laptop is eligible for recycling. Otherwise, there might be local recyclers of laptops near your location that you could look for.
Wrapping Up
These are some steps that might be able to help you out of a difficult situation with an old computer. In case you are stuck with a laptop that cannot be upgraded, try any of these solutions and either get a new device or fix the old one temporarily so you can budget for an upgrade.
About Veronica Johnson

Veronica likes reading, writing, and exploring through her travel. With her freelance guest writing, she hopes to achieve both her passion and career in online content marketing. She writes on topics like business, advertising and digital marketing.
Photo Credit: Christin Hume on Unsplash